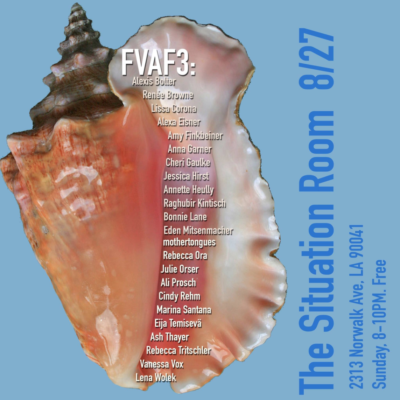 The Femmes' Video Art Festival is curated from an open call for female-identified video artists to submit works made in the last 3 years. The objective of the festival is to explore and celebrate the issues, themes, and artistic styles that are being addressed by female-identified artists today. The themes of the curatorial selections emerge from the submissions. Now in its third year, we are delighted that the Festival features work by artists from all over the globe, artists who are early in their careers, and artists who are established. The Festival was started by Micol Hebron for The Situation Room in 2015.
The Third Annual Femmes' Video Art Festival screening will occur at The Situation Room (2313 Norwalk Ave, Los Angeles, CA 90041) on August 27th, from 8-10pm. Admission is free.
---
This year's video artists include:
Alexis Bolter
Renée Browne
Lissa Corona
Alexa Eisner
Amy Finkbeiner
Anna Garner
Cheri Gaulke
Jessica Hirst
Annette Heully
Raghubir Kintisch
Bonnie Lane
Eden Mitsenmacher + Rebecca Tritschler
mothertonuges
Rebecca Ora
Julie Orser
Ali Prosch
Cindy Rehm
Marina Santana
Eija Temisevä
Ash Thayer
Vanessa Vox
Lena Wolek

---
The Situation Room is a community project space located in Eagle Rock, CA. It was founded in 2015 with the objective of providing space and resources for artistic and artist projects that may not have time or space in more traditional artistic venues. Operating with feminist ideology of collaboration, horizontality, alternative economies, and consciousness-raising, all members of the community are always welcome to propose and/or attend projects at The Situation Room.