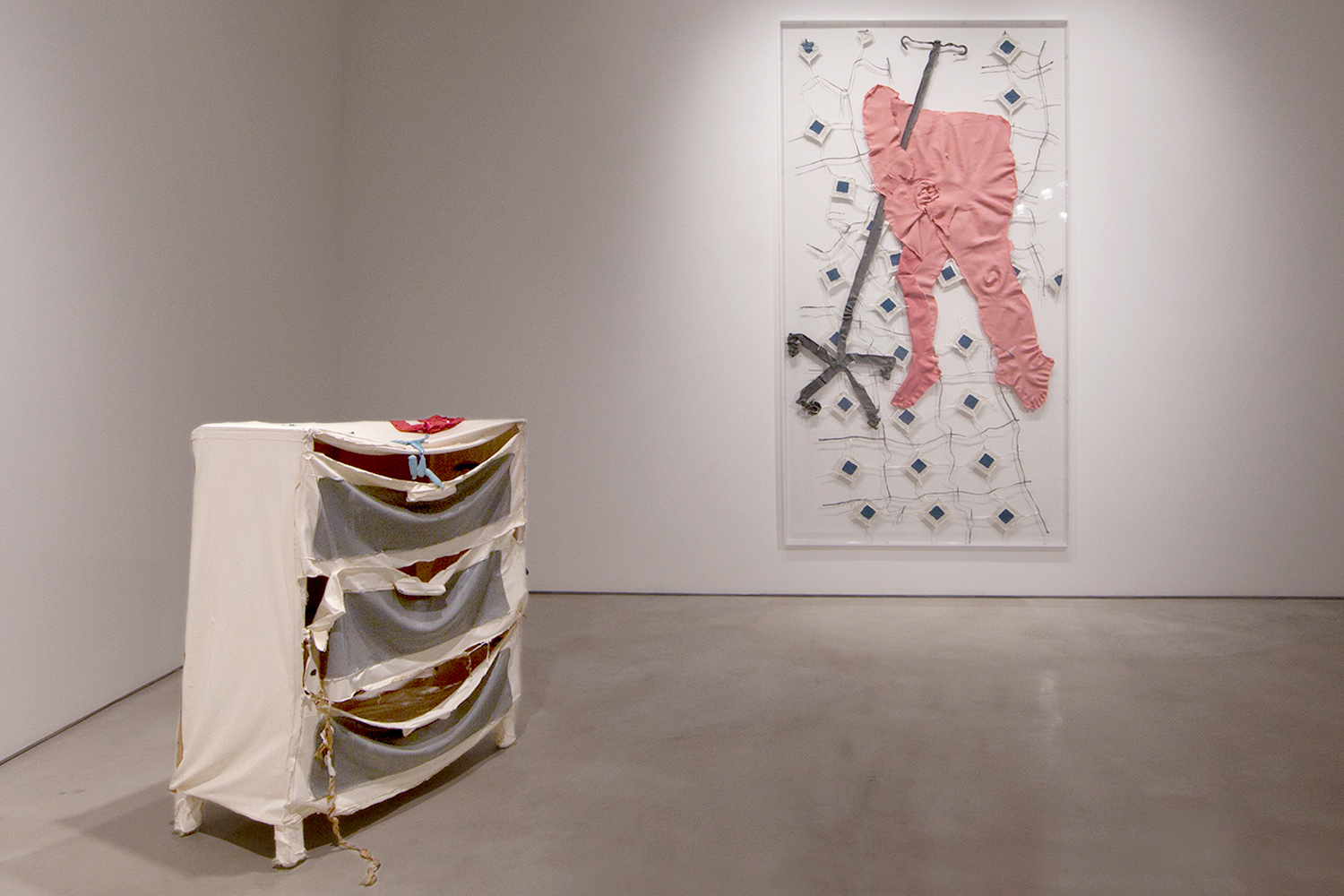 Immediate Surroundings 
a solo exhibition of new work by Kim Ye
OHWOW
November 9 – December 15, 2013
OHWOW Gallery is pleased to announce Immediate Surroundings, Los Angeles-based artist Kim Ye's first solo exhibition with the gallery. Through a series of two and three-dimensional work, this exhibition confronts assimilation and the perception of common objects, or familiar surroundings. Her process of imitation, a shifted adaptation of creating traditional copies, presents pieces that animate replication.
Much of her work incorporates latex, the material of the imperfect molds she pulls off everyday items, as in Slippery Drawers, 2013: a droopy version of a small dresser. In general, mold making aims to duplicate an original form. However, with Ye's work, the original form functions merely as a source – here, the "reproduction" becomes the subject matter. In Immediate Surroundings, her series of colorful, yet flaccid sculptures act like props, stand-ins for familiar things: a daybed, bookshelf, and couch, for example.
The ordinary furniture she replicates, as a source, dictates how a human body should position, organize, and behave; they both support and restrain movement. Inspired by these objects of solidified human expectation, Ye's works are manifestations of social pressures, adjacent to and opposite of their implied intention. With a series of wall pieces, based on commercial vertical blinds, she confuses where community ends and privacy begins. These repurposed window treatments pantomime their intended objective. Each slat of the blinds is cut through in delicate patterns, similar to fishnet stockings. They hold the same space as the prototype, while calling its function into question.
Immediate Surroundings aligns with the artist's oeuvre as it continues her topical exploration of reflection and prediction. If we understand an object as an interruption of space, then Ye's mirror-object works are nascent reflections, born from space's unpredictable experience of original form. Our ability to mimic and assimilate to social patterns is inherent. While Ye concedes this mimetic human drive partially accounts for orthodoxy, she also considers how it piques desire – a desire to experience the strange, the new, and the unexplored. After moving to America from Beijing, Ye grew up scrambling to understand what was appropriate and how to adapt family traditions to a new context, often feeling those maneuvers were closer to pantomimes – awkward attempts at assimilation. As a whole, Immediate Surroundings behaves like an allegorical interior. Just as any real domicile acts as a stage, these are spaces where we live our own stories.
When making these pieces, I thought about the struggle to both defy and assimilate into social norms, not only for individual expression, but also for how to organize units of people. I make objects that are taken as givens, and reveal them as toys, as props for playing house. They are malleable and temporary – more of a suggestion than a demand. Fueling this process is a desire for new possibilities in relationship organization. – Kim Ye